Political perspectives
With all eyes on the presidential inauguration, it's the perfect time to look at some Topekans who made significant marks in politics.
The first vice president of color
Charles Curtis, whose linage included Chief White Plume of the Kaw Nation, served as vice president after a distinguished career in the U.S. House and Senate. When tapped to be Herbert Hoover's running mate in 1928, Curtis was the Senate majority leader, the most powerful position in that body.
Curtis is getting special attention this year with the election of Kamala Harris, who is African- and Asian-American, for his distinction as the first person of color to hold the vice presidency.
He was born Jan. 25, 1860, to Ellen Pappan Curtis, who was Kanza, Osage and Potawatomi, and Capt. Oren Curtis. His mother's family that operated a ferry over the Kansas River, starting more than a decade before Topeka's founding in 1854. The Curtis family lived on the north side of the river in the community then known as Eugene.
Ellen Curtis died when Charles was a toddler, and his father put him in the care of his maternal grandmother on the Kaw reservation. When he was in his teens, he was sent back to Topeka, where he attended Topeka High School for a year then set out to find his place in the world.
Curtis became acquainted with Topeka lawyer A.H. "Hib" Case and joined Case's office to learn to read the law. Case was a noted criminal lawyer and credited with having defended clients in more than 200 capital cases in his career.
Curtis' first elected position after passing the bar was that of Shawnee County prosecutor, and he was best known for enforcing the liquor laws and closing Topeka's saloons.
In 1892, when Populists were winning many of the elective offices, including the governorship, Curtis won a seat U.S. House of Representatives as a Republican. He spent eight terms there, serving on the powerful Ways and Means Committee.
In 1907, he was appointed to fill the remainder of the term of a senator forced to resign in a bribery scandal. Curtis kept that seat, being reappointed by the Kansas Legislature. When that term was up, though, the law had changed and senators were being elected by a direct vote of the people. The 1912 election saw a sweep by the Democrats, and Curtis had to sit it out for two years.
Elected to the Senate in 1914 – the first national election in which Kansas women had full suffrage – Curtis went on to serve another 14 years in the Senate, the last three as majority leader. He served on committees related to Indian affairs, but critics say he led efforts to weaken tribal rights.
Curtis sought the Republican nomination for president in 1928 but was beaten out by Herbert Hoover and ended up as Hoover's running mate. They lost their re-election bid in 1932 to Franklin D. Roosevelt.
Curtis is buried with his wife, Annie Baird, in Section 80. The U.S. flag flies over their gravesite.
The first impeachment of a president
In Section 2 lies the small headstone of Flynt Ross, a 4-year-old who'd had a weak heart. His father was Edmund G. Ross, one of the many who came to Kansas Territory in its earliest days to help bring a new state into the Union free of slavery.
In 1866, the Topeka newspaper publisher became the front-runner to fill the vacancy left in the U.S. Senate by the death of James Lane. In those days, the Legislature appointed senators.
Ross was off to Washington and soon was confronted with the impeachment of President Andrew Johnson. Radical Republicans were trying to tie the president's hands by passing a law preventing the president from firing his own appointees without Senate approval. Johnson fired Secretary of War Edwin Stanton, who Johnson believed wanted to establish military rule in the vanquished Southern states. Though Johnson was a Democrat serving with Republican President Abraham Lincoln, he believed Lincoln wanted to reconstruct the South, not punish it. Impeachment followed.
The Radical Republicans in the Senate needed one more vote to remove Johnson and assumed Ross would provide it. When the roll call came, though, Ross voted against conviction, and Johnson's presidency was saved. Ross believed the impeachment was purely partisan and in the future would give whatever party happened to be in control of the Senate power over the presidency.
That didn't sit well with Kansans, though. When his term ended, he returned to Kansas to find few friends. He retreated to Coffeyville to run a newspaper and took a run for governor as a Democrat. In 1885, President Grover Cleveland appointed Ross governor of the New Mexico Territory, and Ross lived out his years there. A book he published in 1896 about the impeachment brought better understanding of his decision and a softening of attitudes toward him.
His son Flynt, though, remains alone in the eight-grave family plot his father bought in 1868. Edmund Ross died in 1907 and is buried in Albuquerque, N.M.
Breaking Senate deadlocks
William Peffer's first foray into politics was in California. He had caught gold rush fever, and while he didn't succeed at mining, he gained a reputation as an orator and got elected to the state legislature.
He had to resign, though, because he wasn't old enough to serve, being a lad of 19.
He returned to what he knew – farming – and was living in Missouri when the Civil War started. He went to Indiana to join the Union Army, and by virtue of his having studied law, he was assigned as a judge advocate under Gen. William Tecumseh Sherman in Tennessee. He remained there after the war, working as a lawyer to ensure grammar schools educated both Black and White children. He left there in 1870, his liberal attitudes unwelcome, and came to Kansas. 
Here, he was elected to the state Senate as a Republican, but the Reform movement was gaining strength politically in the state. Republicans increasingly were thought of as being advocates for commerce rather than for the common man.
Reformers like Peffer couldn't bring the Republican Party back to earth – agrarian ideals, that is. Peffer, who edited the Kansas Farmer newspaper, found himself taking issue with how railroads set prices for moving crops, believing they were cheating farmers. He urged farmers to take up their own cause and oppose the monopolies that took money from their pockets.
He couldn't succeed in getting the Republican Party to see the error of its ways, so he started a Farmers Alliance that grew into the Populist Party.
The Populists swept into state offices in 1890 and took the governorship in 1892. Peffer won appointment as U.S. senator and took office in 1891, serving a single term. He worked to get federal backing for loans to farmers and individuals. He promoted ending the banking system altogether and believed money should have no value other than as a way to facilitate transactions.
At that time, the two main parties were split evenly in the U.S. Senate, and each needed Peffer's vote for a majority. Republicans courted him strongly, helping him furnish his Senate office and providing other services. Peffer, in turn, voted more often with the Democrats. Many Populists found themselves more aligned with Democrats when their party started to lose its cohesion, but Peffer returned to the Republicans in 1900, but only after taking a shot at the governor's chair on the Prohibition ticket in 1898.
Sen. Peffer died in 1912 and is buried in Section 42 with his wife, Sarah Jane, and four other family members. The only gravestone marking the family plot, though, is the one provided by the government for Peffer as a veteran of the Civil War.
Setting records
Though the accomplishment has since been eclipsed, Arthur Capper was upon his retirement in 1949 from the U.S. Senate both the oldest senator (age 83) and the longest tenured.
Before serving five terms in the Senate, Capper served two terms as governor and was the first governor to have been born in the state.
Capper had a publishing empire that was the city's second-largest employer in the early 1900s, after the Atchison, Topeka & Santa Fe Railway. Capper Publications included The Topeka Daily Capital, Household Magazine and Capper's Weekly.
In the Senate, one of the measures Capper sponsored increased support for 4H Clubs and the Extension services affiliated with the land grant universities like Kansas State. He was an ardent isolationist but voted for war after the attack on Pearl Harbor in 1941.
Capper also was the son-in-law of Kansas' third governor, Samuel Crawford. He was also a member of the first Legislature convened after Kansas became a state in 1861. Crawford resigned his seat, though, and joined 2nd Kansas to fight in the Civil War.
While he was fighting with the Union Army in Arkansas, Missouri and the Indian Territory (Oklahoma), Crawford was nominated for governor. He was granted leave a month before the election, but when he got back to Kansas, the call was going out for troops to stop Confederate Gen. Sterling Price's march north to try to take Fort Leavenworth.With his campaign being solely on the battlefield, Crawford won election as governor and took office Jan. 9, 1865. During his second term of office came the first statewide vote on full suffrage. Two proposed changes to the state Constitution were on the ballot, one to eliminate the word "white" as criteria for an eligible voter and the other to eliminate the word "male." Neither was approved.
Capper and Crawford are buried in Section 58 with four generations of family. A bronze plaque was placed on the brick wall at the end of that section to call attention to the site.
Staying safe
​Social distancing at funerals can be difficult, so Topeka Cemetery offers its Garden Chapel for services. This covered patio has room for people to stand apart and still participate in the service. Having the service outside may feel safer than indoor venues.
Office staff at Topeka Cemetery will wear masks when working within six feet of customers. If you have a mask, we appreciate your wearing it when you come inside.
While you are on the grounds, please respect others by maintaining a safe distance.
Maps showing locations of your loved ones can be found through the Search Records tab on this website. If you need further help, maps and instructions can be emailed to you.
Headstones can be purchased via email. Call the office to discuss size, color and theme, and we will email designs to you.
Payments on accounts can be made by credit or debit card over the phone or mailed in.
If you are wishing to purchase spaces, call the office to discuss what is available near family members or to learn more about what is available. A staff member will meet you on the grounds and help you find just the right spot while maintaining safe distancing.
---

WELCOME
Historic Topeka Cemetery is a setting unlike any other in Topeka. The grounds offer an eternal view for those who shaped Topeka and Kansas from territorial days into the 21st century. The city skyline, with the Statehouse standing prominently in the center, can be seen from nearly every part of Topeka Cemetery.
On a rolling hillside east of downtown, Topeka Cemetery is an outdoor museum of stunning monuments that help tell the stories of the more than 35,000 people in our care.
We encourage you to visit, to take a stroll among the names familiar to you from street signs and businesses, and from family and friends, to reflect on the beauty of this spot and the lives of those who came before you.
READ MORE
---
---
Finding your loved ones
Topeka Cemetery has 80 acres that stretch from SE 10th Avenue to Interstate 70 and from Lafayette Street to California Avenue. Finding family members among the 35,000 souls who rest here can be a challenge.
Whether on your first visit or your 10th, it can sometimes be difficult to get to the right spot.
Enter Walk-to-Site. You can use your smart phone to guide you. Start by clicking on Search Records. Enter the name of the person you wish to find. On some phones, you may need to move the screen left to find the place to enter the last name.
If the person you seek doesn't come up first, hit the "Next" button. That will scroll through the names that are similar.
If you get no results, try a different spelling or use just a first initial on the first name.
The large map will show you where you need to be, so you can drive to the general area before beginning your walk.
Please keep in mind that not every grave has a headstone. If you find no memorial, Topeka Cemetery is happy to assist you in finding the perfect tribute to your loved one.
More instruction is available on YouTube.
---
Points of interest
We consider ourselves an outdoor museum with hundreds of beautiful and interesting monuments! EXPLORE!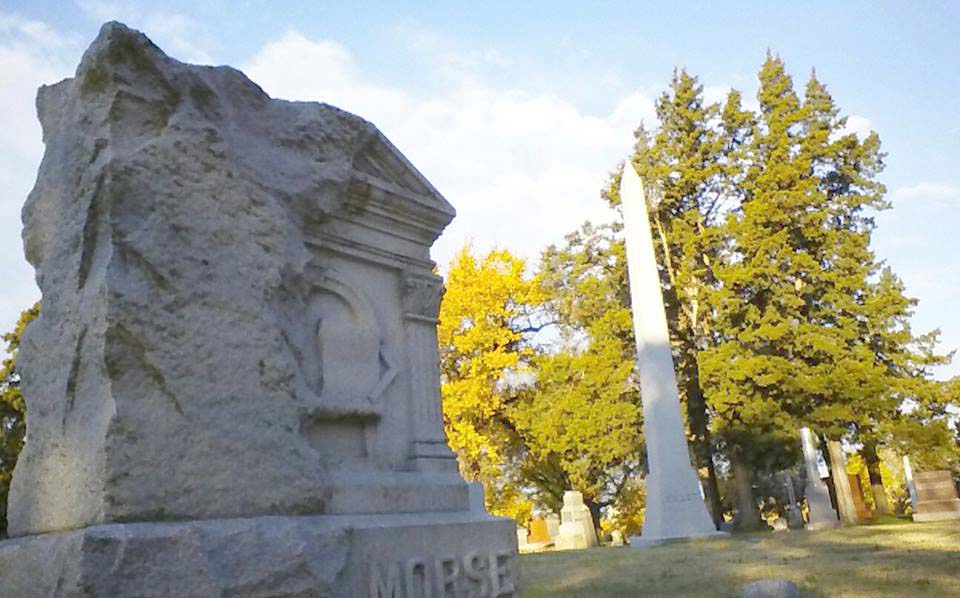 ---
Friends of Historic Topeka Cemetery
The Friends have a mission to support Historic Topeka Cemetery in its efforts to preserve its grounds and buildings, promote Topeka and Kansas history, and educate Topekans on the legacies created by their forebears – the extraordinary and the ordinary, the famous and the infamous, the entrepreneur and the artist.
The Friends offer tours, including Ghost Tours in October; put on events such as Memorial Day and Veterans Day programs; and offer opportunities to remember your loved ones in unique ways.