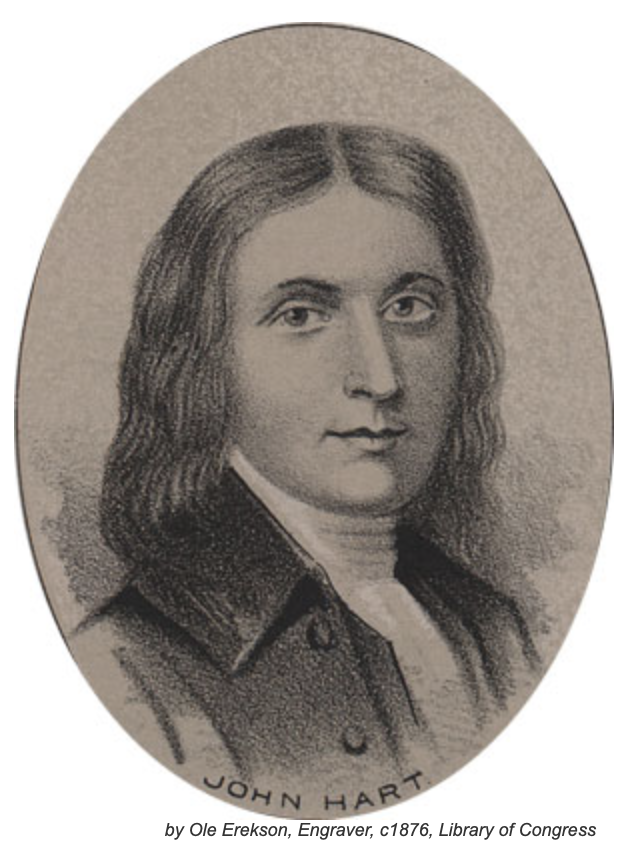 For the children
The number of babies whose graves are now marked continues to grow, but there are so many still in need.
And despite their brief lives, they all have stories.
Like Francis Lair Hart, who was born in 1911 and died from diphtheria in 1914. He got his name from his father and grandfather.
A couple of generations before that, an ancestor of little Francis' signed the Declaration of Independence. John Hart was a successful farmer and had been a member of the New Jersey Assembly. He was selected to represent his state as a delegate at the Continental Congress in 1776. His homestead was overrun by the British only months later, and Hart was forced to hide.
Francis Lair Hart was born to Frank Alonzo and Lucy Hall Hart. Frank was a linotype operator for The Daily Capital and a regular contributor to Our Little Printer, the newspaper published by the local printers union. It was full of inside jokes surrounding the news about its members. Frank's famous relative was mentioned in an edition published in 1921.
The Harts seemed to be in the middle of something most of the time. At the time of Francis' birth, the neighborhood was being plagued by a Peeping Tom. The State Journal said the prowler was finally caught by "a couple of students, beaten until he promised to be good and released. He did not appear again."
When the next Hart child, Robert, was born. Frank awoke the following morning to find his watch and his trousers missing. He had fallen asleep on the couch after folding his pants and putting them on the back of a chair. His watch was on a nearby table. The lights were on the whole time.
The newspaper said Frank must be wondering what sort of company the stork keeps.
Robert Hart ended up spending most of his life in Pottawatomie County. He married Merle Nadeau. They are both buried in Westmoreland Cemetery.
Another brother, Richard, was born in 1921. He was in the Army Air Corps in World War II and was shot down over Germany. He spend nearly a year in a German POW camp. Richard had his ashes interred in the National Memorial Cemetery in Hawaii after having spent much of his life in California.
Frank and Lucy Hart later moved to Lebanon in Smith County, the geographic center of the continental United States. They bought and ran a newspaper there. They also are buried in Westmoreland Cemetery – both their families had long ties to that area.
Lucy's parents were Arthur Milton and Jane Elizabeth Barber Hall, who lived much of their lives in Westmoreland and are buried there. Lucy's paternal grandparents were Linus Porter and Elsa (Elsey) Hall.
Frank Hart's parents were Lair Davis and Laura Ellen Stanley Hart. Lair was Pottawatomie County clerk from 1887 to 1891 and was the postmaster at Westmoreland for 16 years. Frank's grandparents were Hugh See and Elizabeth Rebecca Harper Hart, and Henry B. and Sally Ann Campbell Stanley.
There are memorials to all of them, but not for Francis.

Making a difference
Stories like these moved one generous soul to do what he could to make sure children like Francis have a memorial. His donations to the project have provided 20 headstones.
And he has a challenge for others: "By donating to this effort, we can be assured that their lives, albeit short, will be remembered. This donation is tangible. You will see it, and you can touch it."
You also will touch those who know what it is to be forgotten.
A headstone for one of these children can be obtained for a donation of $100. Follow this link to the online list of names and a link where you can donate online.
The benefactor who donated $2,000 to the effort had learned of it from a newspaper story that ran in 2017 and was saddened to see how many names were still on the list four years later. He thought of their parents, working hard to care for the rest of their children but unable to find funds to mark the graves of those they lost.
He wishes to challenge others to donate to this effort. Fifty donations like his would clear the list for the babies in Sections 73 and 89.
Then we could move on to the sections once known as the City Grounds and the County Grounds, where children whose parents had no means at all are buried.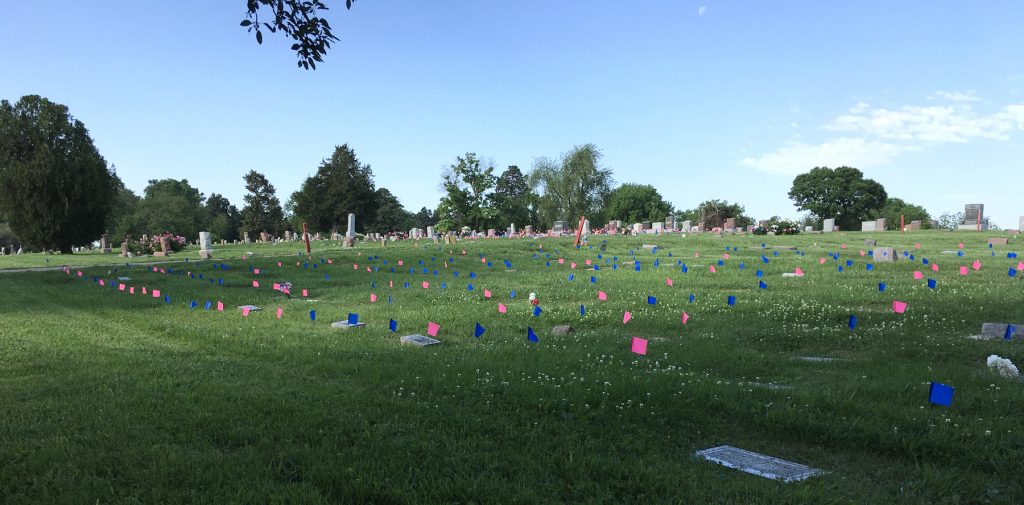 ---

WELCOME
Historic Topeka Cemetery is a setting unlike any other in Topeka. The grounds offer an eternal view for those who shaped Topeka and Kansas from territorial days into the 21st century. The city skyline, with the Statehouse standing prominently in the center, can be seen from nearly every part of Topeka Cemetery.
On a rolling hillside east of downtown, Topeka Cemetery is an outdoor museum of stunning monuments that help tell the stories of the more than 35,000 people in our care.
We encourage you to visit, to take a stroll among the names familiar to you from street signs and businesses, and from family and friends, to reflect on the beauty of this spot and the lives of those who came before you.
READ MORE
---
---
Finding your loved ones
Topeka Cemetery has 80 acres that stretch from SE 10th Avenue to Interstate 70 and from Lafayette Street to California Avenue. Finding family members among the 35,000 souls who rest here can be a challenge.
Whether on your first visit or your 10th, it can sometimes be difficult to get to the right spot.
Enter Walk-to-Site. You can use your smart phone to guide you. Start by clicking on Search Records. Enter the name of the person you wish to find. On some phones, you may need to move the screen left to find the place to enter the last name.
If the person you seek doesn't come up first, hit the "Next" button. That will scroll through the names that are similar.
If you get no results, try a different spelling or use just a first initial on the first name.
The large map will show you where you need to be, so you can drive to the general area before beginning your walk.
Please keep in mind that not every grave has a headstone. If you find no memorial, Topeka Cemetery is happy to assist you in finding the perfect tribute to your loved one.
More instruction is available on YouTube.
---
Points of interest
We consider ourselves an outdoor museum with hundreds of beautiful and interesting monuments! EXPLORE!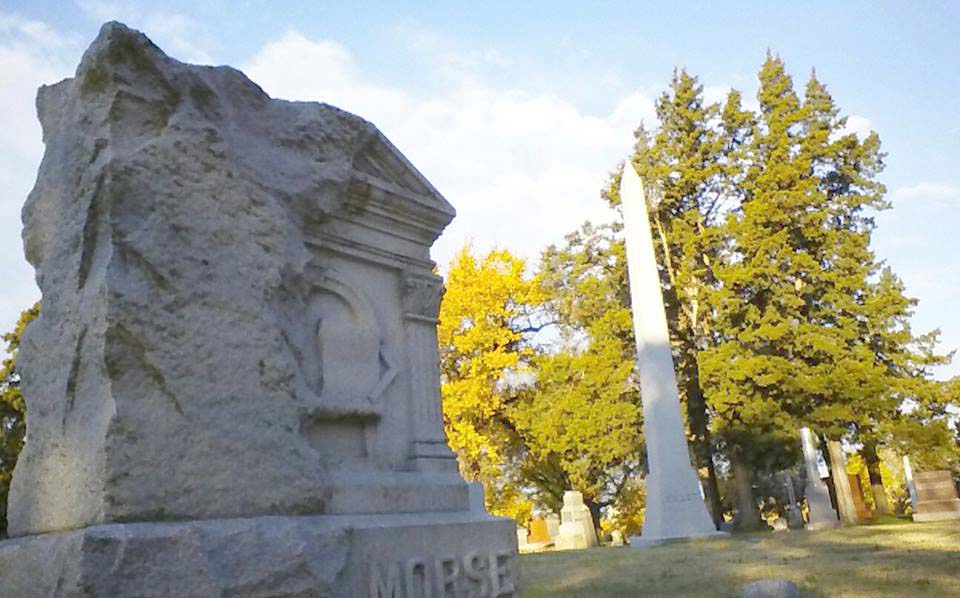 ---
Friends of Historic Topeka Cemetery
The Friends have a mission to support Historic Topeka Cemetery in its efforts to preserve its grounds and buildings, promote Topeka and Kansas history, and educate Topekans on the legacies created by their forebears – the extraordinary and the ordinary, the famous and the infamous, the entrepreneur and the artist.
The Friends offer tours, including Ghost Tours in October; put on events such as Memorial Day and Veterans Day programs; and offer opportunities to remember your loved ones in unique ways.
---