WELCOME
Historic Topeka Cemetery is a setting unlike any other in Topeka. The grounds offer an eternal view for those who shaped Topeka and Kansas from territorial days into the 21st century. The city skyline, with the Statehouse standing prominently in the center, can be seen from nearly every part of Topeka Cemetery.
On a rolling hillside east of downtown, Topeka Cemetery is an outdoor museum of stunning monuments that help tell the stories of the more than 35,000 people in our care.
We encourage you to visit, to take a stroll among the names familiar to you from street signs and businesses, and from family and friends, to reflect on the beauty of this spot and the lives of those who came before you.
READ MORE
---
Staying safe
​Social distancing at funerals can be difficult, so Topeka Cemetery offers its Garden Chapel for services. This covered patio has room for people to stand apart and still participate in the service. Having the service outside may feel safer than indoor venues.
Office staff at Topeka Cemetery will wear masks when working within six feet of customers. If you have a mask, we appreciate your wearing it when you come inside.
While you are on the grounds, please respect others by maintaining a safe distance.
Maps showing locations of your loved ones can be found through the Search Records tab on this website. If you need further help, maps and instructions can be emailed to you.
Headstones can be purchased via email. Call the office to discuss size, color and theme, and we will email designs to you.
Payments on accounts can be made by credit or debit card over the phone or mailed in.
If you are wishing to purchase spaces, call the office to discuss what is available near family members or to learn more about what is available. A staff member will meet you on the grounds and help you find just the right spot while maintaining safe distancing.
---
---
Finding your loved ones
Topeka Cemetery has 80 acres that stretch from SE 10th Avenue to Interstate 70 and from Lafayette Street to California Avenue. Finding family members among the 35,000 souls who rest here can be a challenge.
Whether on your first visit or your 10th, it can sometimes be difficult to get to the right spot.
Enter Walk-to-Site. You can use your smart phone to guide you. Start by clicking on Search Records. Enter the name of the person you wish to find. On some phones, you may need to move the screen left to find the place to enter the last name.
If the person you seek doesn't come up first, hit the "Next" button. That will scroll through the names that are similar.
If you get no results, try a different spelling or use just a first initial on the first name.
The large map will show you where you need to be, so you can drive to the general area before beginning your walk.
Please keep in mind that not every grave has a headstone. If you find no memorial, Topeka Cemetery is happy to assist you in finding the perfect tribute to your loved one.
More instruction is available on YouTube.
---
Points of interest
We consider ourselves an outdoor museum with hundreds of beautiful and interesting monuments! EXPLORE!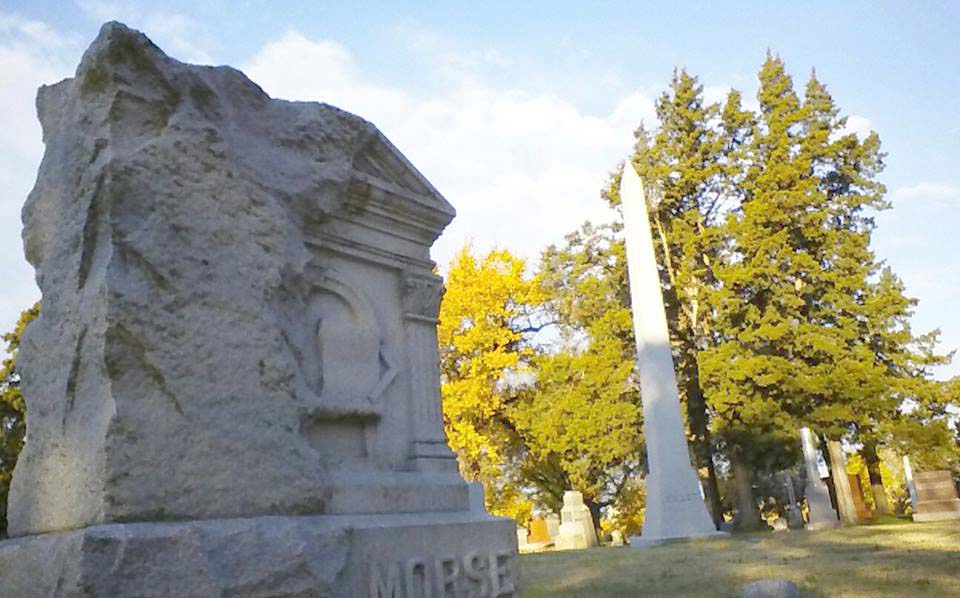 ---
Friends of Historic Topeka Cemetery
The Friends have a mission to support Historic Topeka Cemetery in its efforts to preserve its grounds and buildings, promote Topeka and Kansas history, and educate Topekans on the legacies created by their forebears – the extraordinary and the ordinary, the famous and the infamous, the entrepreneur and the artist.
The Friends offer tours, including Ghost Tours in October; put on events such as Memorial Day and Veterans Day programs; and offer opportunities to remember your loved ones in unique ways.