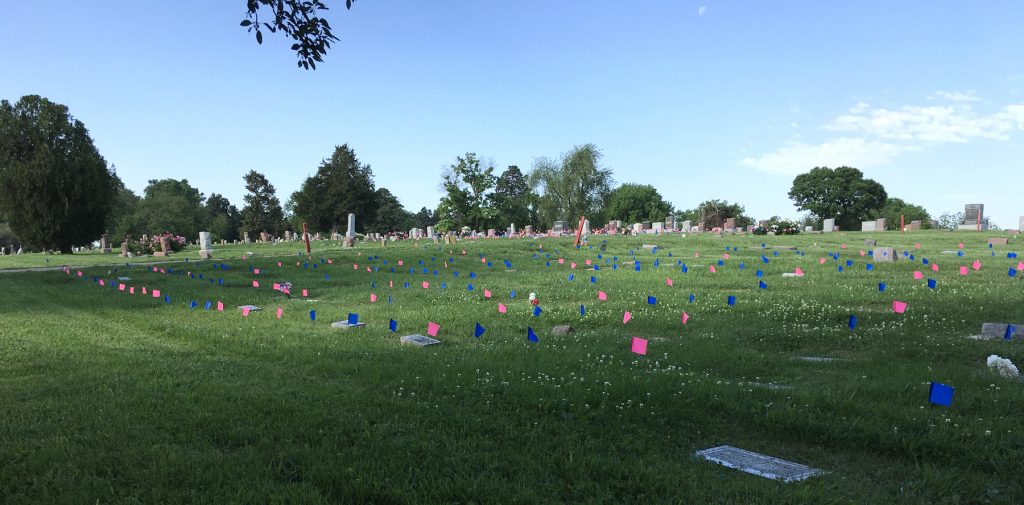 For the children
In the days before prenatal care, vaccines for childhood diseases and food and product safety laws, surviving to adulthood was difficult, to say the least.
Statistics for Topeka Cemetery in 1868 showed that of 521 interments, 179 of them – almost 35 percent –were children younger than 10. Scarlet fever, typhoid, diphtheria, measles and whooping cough were frequent causes of death for children.
Accidents were common. Substances like carbolic acid and cyanide were used for cleaning. Stoves had open flames. Many yards had wells or cisterns to collect water for household use.
Then there was milk.
The cause of death is listed as "summer complaint" in cemetery files. The lack of refrigeration meant milk spoiled more quickly in the warm months, and that brought on frequently deadly bouts of diarrhea.
A newspaper story in 1908 quoted the U.S. surgeon general saying that gastro-intestinal disease was the largest single factor determining infant mortality.
Milk also could be infected before it ever left the farm. Outbreaks of tuberculosis, typhoid, diphtheria and scarlet fever were traced to infected cows.
Pasteurization of milk – heating raw milk to at least 165 degrees – was determined to be effective in killing disease-causing bacteria as early as the 1860s, but widespread treatment of milk didn't occur until the 1920s in the United States.

Babyland
Topeka Cemetery has three large areas devoted to the burial of infants and young children. Young families frequently had no resources to do anything beyond providing a proper burial, and their children lie in unmarked graves. These number in the hundreds, particularly in the areas populated before 1920. Many who were stillborn weren't even named; records often don't even tell us whether they were male or female.
With "Remember Me," the Friends of Historic Topeka Cemetery are working to bring identity to these babies. They were someone's child, but they also are someone's sibling, aunt, uncle, great aunt or great uncle. Despite the short time they were on the Earth, they still have stories to tell.
People have been stepping up to help do just that. Members of the Topeka Genealogy Society have joined Friends of Historic Topeka Cemetery in researching the family stories of these children.
Like Blair Martin, who died in 1906 of whooping cough. His uncle was Hal Foster, the cartoonist who created the "Prince Valiant" cartoon and drew the "Tarzan" comic.
The first born of John Robertson and Nettie Whitehair Bennett didn't get a name or a headstone. John Bennett was working for the State Printer's Office when the child was born in 1910. He later moved to Caldwell and operated the newspaper there. The Bennetts did have five more children, Helen June, Olive Ann, Hester, Brice Francis and James Robert.

Making a difference
Stories like these moved one generous soul to do what he could to make sure these children aren't forgotten. His donation to the project provided 10 headstones.
And he has a challenge for others: "By donating to this effort, we can be assured that their lives, albeit short, will be remembered. This donation is tangible. You will see it, and you can touch it."
You also will touch those who know what it is to be forgotten.
A headstone for one of these children can be obtained for a donation of $100. Follow this link to the online list of names and a link where you can donate online.
The benefactor who donated $1,000 to the effort had learned of it from a newspaper story that ran in 2017 and was saddened to see how many names were still on the list four years later. He thought of their parents, working hard to care for the rest of their children but unable to find funds to mark the graves of those they lost.
He wishes to challenge others to donate to this effort. Fifty donations like his would clear the list for the babies in Sections 73 and 89.
Then we could move on to the sections once known as the City Grounds and the County Grounds, where children whose parents had no means at all are buried.

---

WELCOME
Historic Topeka Cemetery is a setting unlike any other in Topeka. The grounds offer an eternal view for those who shaped Topeka and Kansas from territorial days into the 21st century. The city skyline, with the Statehouse standing prominently in the center, can be seen from nearly every part of Topeka Cemetery.
On a rolling hillside east of downtown, Topeka Cemetery is an outdoor museum of stunning monuments that help tell the stories of the more than 35,000 people in our care.
We encourage you to visit, to take a stroll among the names familiar to you from street signs and businesses, and from family and friends, to reflect on the beauty of this spot and the lives of those who came before you.
READ MORE
---
---
Finding your loved ones
Topeka Cemetery has 80 acres that stretch from SE 10th Avenue to Interstate 70 and from Lafayette Street to California Avenue. Finding family members among the 35,000 souls who rest here can be a challenge.
Whether on your first visit or your 10th, it can sometimes be difficult to get to the right spot.
Enter Walk-to-Site. You can use your smart phone to guide you. Start by clicking on Search Records. Enter the name of the person you wish to find. On some phones, you may need to move the screen left to find the place to enter the last name.
If the person you seek doesn't come up first, hit the "Next" button. That will scroll through the names that are similar.
If you get no results, try a different spelling or use just a first initial on the first name.
The large map will show you where you need to be, so you can drive to the general area before beginning your walk.
Please keep in mind that not every grave has a headstone. If you find no memorial, Topeka Cemetery is happy to assist you in finding the perfect tribute to your loved one.
More instruction is available on YouTube.
---
Points of interest
We consider ourselves an outdoor museum with hundreds of beautiful and interesting monuments! EXPLORE!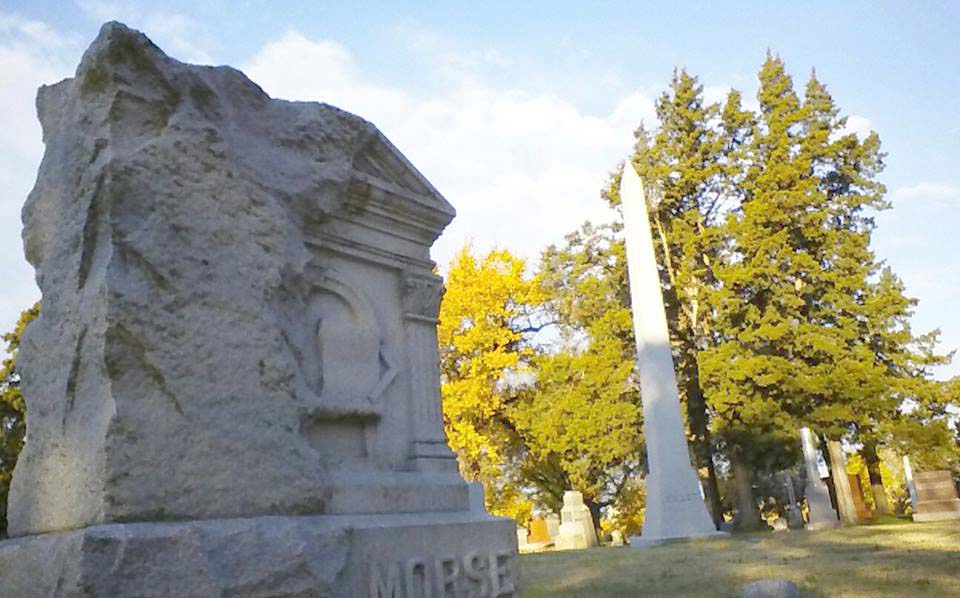 ---
Friends of Historic Topeka Cemetery
The Friends have a mission to support Historic Topeka Cemetery in its efforts to preserve its grounds and buildings, promote Topeka and Kansas history, and educate Topekans on the legacies created by their forebears – the extraordinary and the ordinary, the famous and the infamous, the entrepreneur and the artist.
The Friends offer tours, including Ghost Tours in October; put on events such as Memorial Day and Veterans Day programs; and offer opportunities to remember your loved ones in unique ways.