Notables
Sam Radges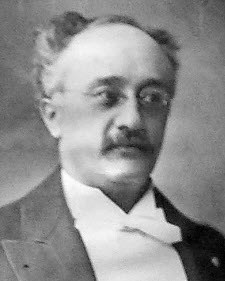 Sam Radges, the first publisher of a city directory in Topeka, was known for being a bit odd, or at least for doing odd things to entertain others. Like donning a fur coat in the summer. If it kept the cold out, shouldn't it also keep out the heat?
But creating his memorial years before his death was even more unusual. Pre-planning for one's final journey was unheard of in his day. Radges wanted to go out in style: He built an above-ground mausoleum and had it wired with electricity and a light. He needed the light, because he contracted to have the newspaper delivered for 20 years after his death and he wanted to be able to read it any time of the day or night.
He was massing funds to purchase a building downtown when a woman needing a burial place for her sister offered him $350 for the mausoleum. He took it and put it in the bank. Then the bank collapsed, taking $21,000 of his money with it.
"I felt more uneasy about being robbed of a grave than I did over the loss of all the rest of the money," Radges told the Topeka Daily Capital in 1911.
When the bank's accounts were settled, Radges did get some of his money back, and he set to making sure his final needs were taken care of. "I should hate to think that, after I'm dead, I should put my friends to the trouble of choosing my final resting place," he said.
He chose a spot in Section 58, not far from the gravesite of Samuel Crawford, Kansas' third governor. He didn't erect another above ground mausoleum, but the tomb he chose does keep him from being technically buried. Radges lies in a concrete vault topped with a 6- by 3-foot granite slab engraved with the simple epitaph "Sam Radges Sleeps Here."
Radges procured a large, red glacial rock that makes it easy to find his final resting place.
His life was as interesting as his death. Radges came to America from England after hearing his brother describe Niagara Falls. He just had to see it for himself. He ended up settling in Ohio and joined the Union forces there. After the war, he came to Kansas and took the job of postmaster in Dodge City. From there, he came to the capital and began his work of making it the best city anyone could imagine.
His city directories extolled the qualities of Topeka and Kansas. To hear Radges tell it, there was no better place on Earth. His first directory was published in 1869-70, and he continued in that business for another 30 years. His publications were compilations of everything one needed to know about Topeka.
He was interested in everything, said the reporter who interviewed him in 1911. "He was the 'man about town' who was always called upon when there was work to be done and no money to be paid out."